Yacovelli's
from Yacovelli's
Chicken Marie
Posted: 06/6/2013
INGREDIENTS:

8 0z Chicken Breast
Garlic 1 tsp
Olive Oil 2 oz
Artichoke Hearts 6
Mushrooms 1/4 Cup
2 leaves Fresh Basil
Fresh Chopped Tomatoes 1 cup
Chardonnay 3 oz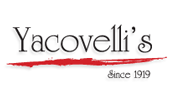 INSTRUCTIONS:

Charbroil the chicken breast.
Sauce: Pour olive oil & saute garlic in skillet. Add tomatoes, mushrooms, artichoke hears & Chardonnay & simmer on low. Place grilled chicken breast in skillet and simmer. Place chicken breast on dinner plate & top with sauce.
Cook Time: